RHOC - Real Housewives of Orange County





RHONJ - Real Housewives of New Jersey




RHONY - Real Housewives of New York




Watch Susan Alexander co-host The Denial Show. New clips every Tuesday!
JULY 2011

Kim Catrall In Denial
Anthony Weiner In Denial


April 2011

Lindsay Lohan in Denial



Costco in Denial



March 2011

Taking on Tyson in Denial
Gwyneth Paltrow in Denial:

---
December 2010
Dancing with the Stars In Denial

Emma Watson In Denial


July/August 2010

Ryan Seacrest In Denial

Al Gore In Denial


---
April/May 2010

5 FUNNY FEMALES LIVE AT THE PURPLE ONION DVD TRAILER
---
October 2009

Funny Females Susan Alexander and Sandy Stec at San Francisco's most popular comedy work out room called The Brainwash with Tony Sparks every Thursday night. Special thanks to Charlie Ballard and Dave Medina for filming the video.



---
September 2009
Singles Who Mingles Debuts in New York City

I am very excited to be hosting my Singles Who Mingle show to New York City at the legendary Gotham Comedy Club on Wednesday, September 30th. The first part of the show features a variety of comedians from TV, festivals and national tours. Then the comedians will mingle and break the ice with the singles in the audience turning the show into a fun singles mixer.
Below are the featured comedians on the line-up:

Susan Alexander - Host of Singles Who Mingle
Dana Lovecchio - 5 Funny Females Tour
Jessimae Peluso - Boston Comedy Festival
Stone and Stone - NBC's Last Comic Standing
Singles Who Mingle Hosted by Susan Alexander
Laugh. Mingle. Have Fun.

Location: Gotham Comedy Club
Address: 208 West 23rd Street , NY , NY 10011
Date/Time: Wednesday, September 30th @ 8 PM (arrive by 7:30 PM)

Tickets: $15 plus two drink minimum
BUY TICKETS @ http://www.gothamcomedyclub.com
Phone: 212.367.9000
See you at the show. Thank you for your continued support.
Buy Tickets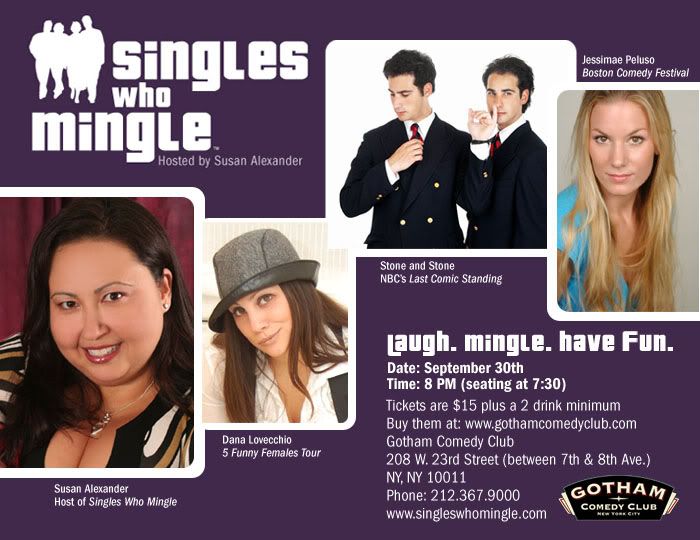 ---
April 2009


5 Funny Females Merchandise Debut




Very proud to be debuting my first 5 Funny Females merchandise which are these awesome navy blue, soft brushed cloth hats that fit everyone!
5 Funny Females Cap!
5 Funny Females Sold Out Show in Dracut, MA on 4.4.09 and New 5 Funny Females Hats!
Left to Right: Chantal Carrere, Susan Alexander, Andrea Henry, Maria Ciampa & Bethany Van Delft
5 Funny Females Hats are available for purchase after each show and also online by emailing
admin@5funnyfemales.com
for more details.


PRICING:

1 Hat = $15
2 Hats = $20
(plus standard shipping & handling)
ONE SIZE FITS ALL
---
February 2009
Going Back to Cali
Going back to California for my West Coast shows in February. See you at one of the shows.
LOS ANGELES - February 26th
Please call 323-856-0036 for reservations for 5 Funny Females on Feb. 26th.
IFC's Mary Van Note for 5 Funny Females @ MBar Hollywood
SAN FRANCISCO - February 27th and 28th
Please email to reserve seats @ reservations@5funnyfemales.com for Feb. 27th & 28th shows.
---
January 2009


Year in Review




Such a fun and exciting 2008. This year represents my fifth year in stand-up comedy and I have had a few great experiences in 2008.
Going on three (3) years, I have been able to continue my packed and fun 5 Funny Females shows which has toured over 12 US cities to date. My 2008 shows included NYC, New England, Boston, Chicago and of course where I started comedy in San Francisco. 5 Funny Females also brought forth offspring shows like 5 Funny Fags (love the gay boys) and 5 Funny Friends (mix of everyone funny) then 2009 will have 5 Funny Filipinos. Yes, I love to alliterate those FFFs. The October San Francisco shows were filmed by Rooftop Comedy and clips can be viewed at
http://www.rooftopcomedy.com/events/5funnyfemales
.
This past summer I was selected as a semi-finalist in the Friars Club: So You Think You Can Roast? contest and was honored to be able to roast George Takei (Sulu from Star Trek).
Take a look at the clip
. I appreciated everyone's votes and support for this contest. Even though I did not win, I did get invited to the Friars Club Matt Laurer which was awesome. The most surreal part was seeing Tom Cruise LIVE roasting Matt at the beginning of the show. No matter how Scientology couch jumping crazy he is, he was hot in person.
It seems that 2008 created some really cool press coverage for me. At the beginning of 2008, I was interviewed in the Boston Globe and featured in the Boston Phoenix with press coverage across the country. To end the year, I was featured as comic of the week in Time Out New York.
Click here to view the PDF
. There will be some fun interviews published in January and February 2009. Check back on my website for more press clippings in 2009.
Most importantly, I want to give a special thanks to everyone who has supported me in stand-up comedy to coffee houses to the Friars Club. Please keep coming out to support my LIVE shows this year.


HAPPY 2009!

---
November 2008
Little Escapes

Changing seasons and lots of celebrating are just some of the reasons I love November. Most importantly, November is my birthday month and also it is Veterans Day which has become special to me since my father who served 20 years in the military passed away.

After college, I moved to New York City and came home one summer in 1997, he finally told me of his time in Vietnam.

You took a shower and you were still covered with sweat. That's how hot the jungle was in Vietnam." my military dad informs me while drinking his light beer.
I was around military men the first 10 years of my life and always noticed they drank beer. Then they switched to light beer to stay fit and also to be able to drink all day. My dad would have a couple of beers on the weekends on his 'walks' to escape my mother. Realizing that my parents stayed married for so long because they had little 'escapes' from each other.
My dad was lucky that he did not have Vietnam 'hear the choppers coming for you' type flashbacks since he created his little escapes from the war and my mom.
Little escapes have become a form of relaxation for me. Because the computer more like facebook has become an addiction I need to have little escapes in the real world. My dad has his bars (which I still enjoy) and I go to the nail salon for my manicure/pedicure escape. The salon I go to has the latest magazines but most importantly they carry The Globe. The Globe is almost as good as my National Enquirer the original gossip tabloid that is 90% correct.

I escape relaxing having either a Korean or Hispanic lady working on my feet. On the West Coast in San Francisco, I prefer my Vietnamese manicurist Jenny at Trio Nails and gives the best manicures and also introduce me to Vietnamese food. In New York City, I have found a couple of nice places not the same but they do a good job. The vibrating chairs and the whirlpool at my feet make me feel like I have escape into my own oasis for a couple of hours.
To complete the escape, I will take a look at the National Enquirer at the local grocery store and I will only buy if my horoscope is positive.

---
AUGUST 2008
Crackling Chicken
'Crackling Chicken on the bone' is the first phrase out of my mouth when I return to New York City from the road. In New York City, there are these amazing inexpensive take-out places in the city that are half Cuban/half Chinese. It is a must to order Crackling Chicken on the bone and not white meat to enjoy this inexpensive heart attack food. The way to make this meal semi-balanced is to get the Avocado salad to complement this juicy and tasty chicken.
The chicken, most likely neighborhood pigeon or cat, used for Crackling is seasoned in spicy batter then deep fried.
Crackling Chicken is a treat for me, since most food at comedy clubs make the 7-Elevens and Qwickie Marts food selection look gourmet.
As one can imagine, the food at most comedy clubs have more are saltier than in the Dead Sea.
Let me set the scene at the food preparation of food at most comedy clubs. Waitresses at these clubs are working hard and have to multi-task on weeknights and be bartenders/cooks. While they are taking drink orders, ignoring sexual advances from customers, they have to microwave the chicken wings or if the club is exotic, jalapeño poppers. There is a science to microwaving but not going happen at the club. From my college days, I learned the best way to microwave is to cover the food with Saran Wrap then put it in microwave. The waitress grabs the wings or poppers from a Costco sized frozen bag and puts a handful on the paper plate. The she proceeds to microwave the food for 90 seconds no matter what type of food. Almost 99% of the time the food is usually half super hot then the other half cold.
Of course that never stopped me from eating the food because I do love wings. I would just add Tabasco sauce to spice up the cold half.
This year, I am grateful to be performing at venues with my 5 Funny Females Tour serve amazing food. We even have had the shows catered with Sushi Rolls to Mediterranean dishes. That is great for the audience but for the comedians who are performing, we usually eat after the show which means cold food anyways.
From my five years in stand-up comedy, it seems that the bigger the venue (think theaters and Madison Square Garden) you get to perform in the less food is served. I want my audience to be starving so I can fill them up with laughs.
Then we can all go out after the show for Crackling Chicken on the bone!
---
MAY 2008

Springtime for Breeders
It is still unbelievable to me that there were 410 kids in that one compound in Texas with 12 year old girls married to 60 year old men, it's like a Woody Allen convention with out the Korean girls.
Springtime in the Upper West Side of New York City is a happy and desperate time of year. All these yuppie women are hoped up on fertility drugs and it's like the NFL Draft season in the neighborhood.
They are pushing their TRIPLE seated strollers down the sidewalk pushing everyone out of the way to get to that fancy organic store called Whole Paycheck.
Some of those strollers are pimped out and cost over $2,000. That is more than my last used car I had in San Francisco. All the parents that failed at their own hopes and dreams are putting all their money into their babies as their last chance.
When I look at some of these Botox faces of women pushing their strollers in Central Park, it reminds me of high school with fancy toys and illegal nannies.
There have some Mommy cliques, Daddy cliques and nannies cheating with the Daddies cliques. To me this is absurd that you have two parents in the park and they bring their nanny to watch one kid. Maybe I'm just jealous of all the attention these kids are getting or realize they are raising the next needy guy I will be dating.

Seeing all the kids is just a reminder that I have about 10 eggs left that I had better freeze or have a good time with men in their 20's. I just need to consult my Magic 8 ball to determine my destiny.


---
MARCH 2008
New Addiction
Haven't been addicted to a TV show in sometime, since Dick Wolf started up the Law & Order Sex and Psycho spin-off shows, then it happened, I turned on TNT one day and it was a marathon day of Cold Case. These marathons on the cable station, allow those too lazy or not interested in DVR/Tivo to get an overload of one show. Cold Case has a damaged heroine who is always in turmoil but solves these cases of dead people that now seems to have solved and are filed away into the 'Cold/Dead' files. Now the heroine played by Kathryn Morris always seems to have awkward blonde hair that is pinned up and looks funky but I think that is to keep us on our toes.
The set-up of every show is set in flashbacks with killer soundtracks. Whatever respect I lost for Jerry Bruckheimer for making Pearl Harbor, I have regained watching the Cold Case TV shows. Seeing the stories from the dead people's point of views and the Cold Case is solved at the end of the show.
Of course, they have the single girl heroine living with like three cats she rescued. One is missing an eye to symbolize how damaged she is and the men she selects. That was just me projecting myself on to the lead character.
Love that the show takes place in Philadelphia and the fact that my home state of Pennsylvania is represented. PA is 'real' America in one state. There are the wealthy area but mostly buckets of dairy/Amish farmland, raped mining hills near Pittsburgh and some rural parts that have a little bit of that banjo song going threw your head.
What I really like that show takes place in PA is that I recognize some of the smaller counties and towns they talk about. When I am on the road and lucky enough to catch, Cold Case, I do feel a little homesick when I watch the show. However, mostly I feel calm even though it's about dead people.


---
January 2008
Dead Dad Dating Advice

My dad died over five years ago but he still comes to me in my dreams. On the last visit, he had an unusual request.

"Susan, can give me some dating advice in heaven." Dead Dad said.

"Dad, you're in heaven. Aren't you still married to Mom?" I said.

"It was cheaper for me to die than divorce your mom. Don't hate, Susan. Now give your Dead Dad some dating tips." Dead Dad said.

"Okay. Stay away from the women clapping their hands and singing in the choir because they'll bring their stuff and wanna live on your cloud. Stick with the women hanging at the gates with one foot in heaven and one in hell. They're the good time girls" I said.

I'm sure he is with me in my waking life but doesn't wanna see me overeating, drinking and having sex or 'dating' a variety of men.

Listen, I remember the meal I had five years ago on May 20th at 8 PM but I don't remember the guy's name I had sex with that night. That's how much food sometimes is more significant then the men in my life. Weather it is right or wrong, it tasted good.